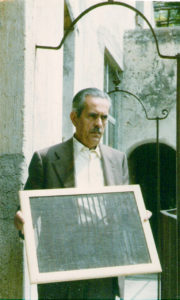 Those were the last years of the flourishing paper industry in Amalfi, which were followed by, also due to the subsequent free-trade an slightly punitive politics of the unitary governments, a slow but progressive and relentless crisis. The causes were multiple: the location of the "Valle dei Mulini", which was far from road and railway networks, the difficulty in obtaining primary materials and the sale of the product, competition with more modern, equipped and connected industries, the lack of a constant water flow and above all technological inadeguacy, due to the lack of investments. The last tremendous blow to the paper industry was inflicted by the catastrophic flood in November 1954, in which very few mills survived.
A noble, centuries old tradition, was about to disappear and would have done so if it were not for the energetic and courageous intervention of Luigi Amatruda, who decided to take innovative action.Instead of abandoning the industry he persevered and overcame the problems of transport, the inability to complete in the market due to the limited production of wrapping paper and "briglia" paper. He started once again to produce good quality paper, in cotton or cellulose, with authentic uncut edges. Today this paper is well known nationally and internationally in the writing, drawing and publishing sector.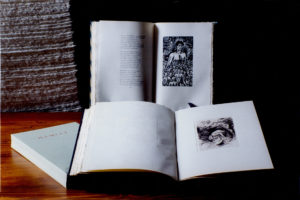 The first production of the Amatruda paper mill for the publishing trade in the publication in 1969 of the Gaelic book of Hugh Mac Diarmid "A Drunk Man Looks at the Thistle" printed on Amalfi paper in Bodoni's workshop of Verona and published by G.Madersteig. Other publications followed this. Among which we can mention: "Il Canzoniere" by Petrarca printed by Marotta of Naples in one thousand exemplars; "Il Pianeta Buzzati" for the Apollinaire Publishing House; "Priere sur lâ Acropole" by Renan, the "Koran", "Hamlet" by Shakespeare and other works for the Tallone Publishing House; "Haeneid" by Virgil for the Elefante Publishing House ; with twelve original pictures of Guttuso, the engravings of Pietro Annigoni for Eldec Publishing House; "I Pensieri della Notte" by Roberto Barni, "Verso Novunque" by Mauro Mare', "Ultime poesie" by Filippo De Pisis, "Tre Palazzi emblematici Dell'Insula Senatoria" for the Grafica Dei Greci Publishing House; the many publications printed by Fratelli De Luca. Since the early 90s, the "Sibilino S.L.", publishing house in Seville, uses Amatruda paper for the realization of the "Sibila, Revista de arte, musica y literatura" sponsored by the Fundacion BBVA.
Significant is the collaboration with the Colophonarte of Belluno, just to mention some, has edited "The one bright substance" by Mario Luzi, "the great sun load of love dedicated to Luigi Nono. Cotton Amatruda paper was printed by the Vatican Secret Archives for the realization of "Processus contra Templarios", presented at the Vatican on the 25th of October 2007. Were also carried out by Treccani engraving art. The Amatruda paper mill is part of the Cultural Association "Antica Tipografia Artistica Arche Scaligere" – Museum Conte – Verona.